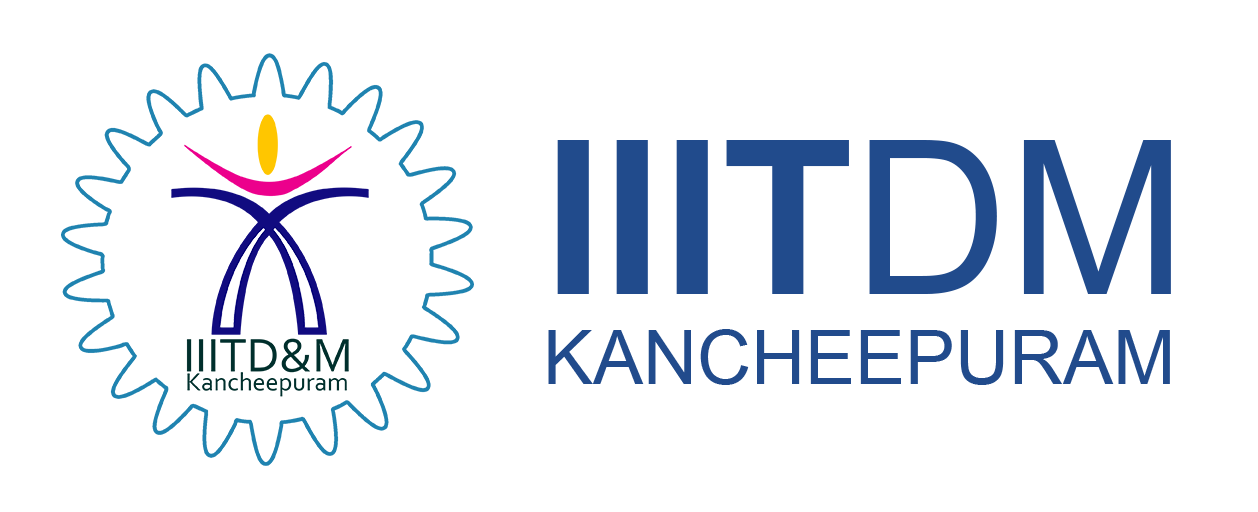 Indian Institute of Information Technology, Design and Manufacturing, Kancheepuram
Vandalur-Kelambakkam Road, Chennai-600127
Department of Computer Science and Engineering
RESEARCH INTERNSHIP IN COMPUTER SCIENCE (RISC 2023)
15-MAY-2023 to 21-JULY-2023
---
The programme starts from 15th May,2023 your mentor will brief you about the research work on day one. No prerequisite is necessary for any of the research areas. Hostel facility will be available from 15th of May and hostel room details will be updated in the website shortly.
1. I answer below some of FAQ asked over emails. Keep visiting this page at regular intervals.
2. There is no stipend for this program.
3. Timings: 9AM-6PM, Mon-Fri
4. Reporting on 15-05-2023 is must and no late reporting is permitted. You can not report late and leave early from the internship programme.
5. As part of this program, student has to stay for a minimum period of 6 weeks in the campus continuously. Extension of internship period is possible based on the performance during the internship provided the advisor agrees for the same. The extension will be decided by the respective advisor in the last week of June in consultation with the intern.
6. Hostel is not compulsory. Hostel rent is Rs.125/- per day. Separate hostel facility is available for girls. Food (Breakfast, Lunch, and Dinner) will be available in Institute Cafetaria/Canteen on paid basis
7. Application link will be active from 14-03-2023
8. Please refrain yourself from applying if your end semester examinations do not get over by 29-04-2023.
---
Flyer
---
Click here to download the flyer
---
About The Programme
---
The objective of this programme is to introduce UG students to emerging research areas in Computer Science & Engineering. Internships shall be offered in the following areas and are grouped based on faculty interests. While filling-in online form, you will be asked to pick the faculty in increasing order of priority. The exact area and the problem will be decided on 15-05-2023 in consultation with intern.
Dr. V.Masilamani
Digital Image Processing
Computer Vision
Machine Learning
Data Science
Dr B.Sivaselvan
Data Mining
Data Analytics
Human Computer Interaction
Evolutionary Algorithms
Dr. Noor Mahammad
High Performance Computing
Reconfigurable Computing
Embedded system Design
Network system Design
FPGAs, VLSI Design
Computer Architecture
Cyber Security
Dr. Umarani Jeyaraman
Computer Vision
Medical Image Processing and Biometrics
Dr. Jagadeesh Kakarla
Machine Learning
Deep Learning
Internet of Things
Dr. Sanjeet Kumar Nayak
Internet of Things and Cloud Computing
Cyber Security
Blockchain Technology
Dr. Ram Prasad Padhy
Autonomous Robotics
Machine Vision
Dr. Rahul Raman
Computer Vision and Image Processing
AI, Biometric Security, NLP
Aesthetics, Machine Learning, Deep Learning
Dr. Pandiri Venkatesh
Graph Algorithms
Combinatiorial Optimization using Heuristics
Swarm Intelligence and Soft Computing
Dr. Preeth R
Internet of Things and Cloud Computing
Machine Learning
Deep Learning
Edge Computing
Dr. S Raghavan
Fog Computing
Cloud Computing
Membrane Computing
Machine learning
Dr. Jaishree Mayank
Algorithm Designing for Electric vehicle routing
Mobile Robots
Energy management in Smart Grid
Dr. B Krishna Priya
Computer Architecture
Memory Technologies
Machine Learning
Image Processing
Mr. Muneeswaran P
Predicting cloud resource provisioning using machine learning
Interns will be exposed to the literature and emerging trends in the areas listed above. Interns will be assisted by Ph.D scholars throughout the programme.
All interns will be provided Letter(s) of Recommendation by the respective research supervisors, on successful completion of the programme.
---
Important Points
---
Duration: 15-May-2023 to 21-July-2023
Mandate Condition for Successful completion of Internship: Minimum stay of 6 weeks from the beginning of the program in the campus continuously
Timings: 9am-6pm, Mon-Fri, Weekly Off: Sat,Sun
Last date for applying: 25-April-2023.
List of Selected Candidates will be available in the website on April 30, 2023 04-05-2023
---
Eligibility
---
Students currently in the Second, Third year of B.E/B.Tech (CSE/IT/ECE/CSBS/AI&ML/AI&DS/CPS/equivalent), CGPA of at least 8.0/10.0.
Students currently in the First, Second year of M.E/M.Tech (CSE/IT/Network Security/AI&ML/AI&DS/CPS/equivalent), CGPA of at least 8.0/10.0 .
Note: In case of any other evalutaion pattern followed, Equivalence Certificate/ Conversation certificate should be submitted to substantiate the acquired CGPA to atleast 8.0/10.0 scale.
---
How to Apply
---
Follow the link:
RISC 2023
---
Boarding, Lodging, and other facilities
---
Boarding and Lodging will be provided in the institute at nominal rates to all selected interns. Hostel rent is Rs.125/- per day. Separate hostel facility is available for girls.
Please note: Hostel stay is not mandatory.
Food (Breakfast, Lunch, and Dinner) will be available in Institute Cafetaria/Canteen on paid basis (the cost would be approximately Rs.130-150 per day).
Internet Access will be provided to all interns both in Academic and Hostel Bay. Candidates are requested to bring their own laptops. Candidates without laptops can make use of Institute Computing Facility.
Each hostel room contains a reading table, chair and a cot. Candidates are requested to bring bed rolls, pillows, etc., Also, bring Ethernet cable for internet.
All the participants are requested to follow our institute rules during the stay (Please check our website for rules and regulations). Students are NOT permitted to use POWER Vehicles.
---
How to reach the Institute
---
Institute is located in Melakottaiyur (Off Vandalur-Kelambakkam High Road) which is 10km from TAMBARAM Railway station. Nearest bus stop is KANDIGAI. Bus numbers 515,517,519,555,115,55k,55D originating from TAMBARAM Bus terminus will stop at KANDIGAI. Our Institute is 1.5km walk from Kandigai. Auto fare from Kandigai to the institute is Rs. 60.
There is exactly one direct bus from Tambaram to IIIT which is 55D which runs every hour from tambaram terminus.
All the above buses will leave from the bus terminus which is close to tambaram railway station.
If you are travelling by train from outside chennai (Bangalore, Delhi, Kolkata...) then the terminus is Chennai Central. From chennai central, reach PARK station (a local suburban station to catch TAMBARM bound train) which is 10min walk. At PARK station, catch TAMBARAM bound train and you will reach TAMBARAM in 45 min.
CALL-TAXI (Prepaid TAXI) fare from Chennai Central to the Institute is approximately Rs. 800.
If you are coming from Southern part of Tamilnadu (Tiruchi, Tanjore,...) then alight at TAMBARAM.
Please note that our institute is in CHENNAI (NOT in Kancheepuram which is only a district name)
---
Contact
---
Dr. Preeth R, Dr. Pandiri Venkatesh Assistant Professor, Coordinators-RISC 2023, Indian Institute of Information Technology, Design and Manufacturing (IIITDM) Kancheepuram Melakottaiyur, Chennai-600127. risc@iiitdm.ac.in 044-27476350